All At Sea



Series Number:

11

Episode Number:

09

Original Airdate:

February 17th 1999

Written by:

Robert Taylor

Guest Starring:

Ramsay Gilderdale, James Petherick, & Fiona Terry

Previous Episode:

Next Episode:
The Chuckle Brothers disguise a double decker bus as a man's yacht.
Paul and Barry talk about model boats, whilst doing so a man named Henry Wilmington-Jones overhears them and thinks they are talking about real boats. This lands the duo the job of cleaning his yacht much to their dismay. After cleaning it with toothbrushes and soap, the Chuckles decide to launch the ship into water. This, of course, sinks it landing the two into serious bother.
Henry returns and before the Chuckle Brothers tell him about the boat incident, Henry tells them that he planned a trip for him and his fiancee Camilla. After Dot The Yacht tells him over the telephone that she can't retrieve the yacht for another week, Paul attempts to find another boat, but all he is able to find is an old double decker bus meaning the guests will not be allowed to open the curtains. The two disguise the bus as Henry, Camilla, and her twin brother Melvin arrive.
The Chuckles set off and so does an old lady whether they want her to or not. Melvin demands the two take him up on deck. They try to convince him it's too foggy to continue. The Chuckles find the old lady Gladis who has made herself comfy on deck. Upon trying to get her off deck, Melvin wanders off. Barry finds him and tries to get him back on board, but Barry ends Melvin putting on the wrong bus.
The Chuckles speed off to catch up with Melvin causing Henry to spill water all over Camilla in the progress. Camilla opens up the curtains just as the bus goes underneath a tunnel making outside look dark. Melvin finds his way back to the bus making Henry faint. Camilla and Melvin take a fainted Henry back home as the Chuckles are chased out of the tunnel by an unhappy Gladis.
Trivia/Goofs
Edit
The episode was filmed in Fleetwood, near Blackpool.
The actor of Gladis is uncredited.
First episode written by Robert Taylor with no involvement from Rory Clark.
Henry: How are you getting on?
Paul: Oh, fine, fine.
Barry: Yes, fine.
Paul: Everythings fine.
Henry: Where's my boat?
Barry: Just down there.
Henry: Oh, fine.
Watch the episode below!
Edit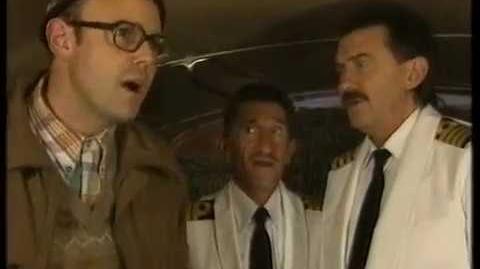 Ad blocker interference detected!
Wikia is a free-to-use site that makes money from advertising. We have a modified experience for viewers using ad blockers

Wikia is not accessible if you've made further modifications. Remove the custom ad blocker rule(s) and the page will load as expected.