Another Fine Ness



Series Number:

07

Episode Number:

04

Original Airdate:

January 28th 1995

Written by:

Ramsay Gilderdale & Philip Hazelby

Guest Starring:

Kate Copstick

Previous Episode:

Next Episode:
The Chuckle Brothers look for the Loch Ness Monster.
The Chuckles decide to follow one of their ancestors and go to Scotland and look for the Loch Ness Monster. They set off on the ChuckMobile and stop at an Inn where the woman tells them of her competition to take a photo of the Loch Ness Monster. The McChuckles then turn up trying to win the same competition. They almost give up when they see the monster and tell Mrs Mack they have seen it but she says she needs evidence of some sort. They then head to the shop and get a postcard of the Loch which Paul draws the monster on it. But she doesn't fall for it. They then make a puppet and take a picture of it against the lake. But Mrs Mack isn't convinced the monster is tartan.
Meanwhile, the McChuckles head out into a boat to search for Nessie. Paul and Barry use some templates to create footprints but she catches them out. They then see Nessie and shout for Mrs Mack but it turns out to be the McChuckles boat. They then explain it is their boat. They then see Nessie on the water and they win the competition and they think of a new competition for her, Search For The Loch Ness Hamster. The Chuckle Brothers then decide to return home to Rotherham instead of going anywhere else in the world.
This episode is also known as Loch Ness.
Watch the episode below!
Edit
This episode is still in 2 parts due to it missing a section. Part 2 doesn't start where part 1 left off.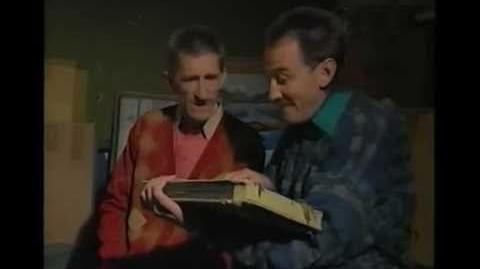 Ad blocker interference detected!
Wikia is a free-to-use site that makes money from advertising. We have a modified experience for viewers using ad blockers

Wikia is not accessible if you've made further modifications. Remove the custom ad blocker rule(s) and the page will load as expected.