Breakdown



Series Number:

11

Episode Number:

01

Original Airdate:

December 22nd 1998

Written by:

Gail Renard

Guest Starring:

Leo Dolan as Lorry Driver
Frances Allberry as Bride
Antony Reed as Groom

Previous Episode:

Next Episode:
When the lorry advertising Dan The Van's new Mexican restaurant breaks down, Paul attempts to fix it.
The Chuckle Brothers are on a lorry dressed as Mexicans to advertise Dan the Van's Tex-Mex restaurant, but the lorry breaks down, and, in their efforts to fix it, the brothers cause an ice cream van and a car carrying a bride to her wedding to break down as well. Fortunately, the bride is an expert mechanic, but the brothers are tasked with preventing the groom from seeing her, and, by the time she has mended all the vehicles, a huge tailback has built up.
Watch the episode below
Edit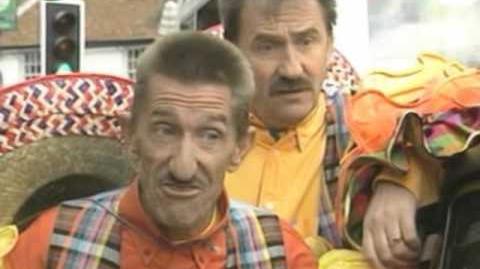 Ad blocker interference detected!
Wikia is a free-to-use site that makes money from advertising. We have a modified experience for viewers using ad blockers

Wikia is not accessible if you've made further modifications. Remove the custom ad blocker rule(s) and the page will load as expected.