CBBC Channel is a digital channel that is avaliable on Sky, Virgin and Freeview.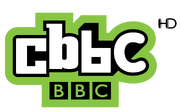 It launched on Monday 11th February 2002 and shows children's programmes from the BBC aswell as some acquired shows from other networks and overseas.
They first showed ChuckleVision at weekends on Saturday August 31st 2002 after it's precessor CBBC on Choice (which showed ChuckleVision previously) ended 6 months before in February 2002. It first aired as part of weekend morning show "Dick and Dom in da Bungalow" along with other shows like Dennis the Menace, The Cramp Twins, Rentaghost, Super Duper Sumos, Basil Brush etc. They showed Series 7 and 8 on the weekend show. It soon came onto weekdays from Monday 6th January 2003 and came on 7 days a week instead of weekend only. Unlike it's precessor CBBC on Choice which only showed Series 3, 5, 7 and 11, They showed Series 4-21 of ChuckleVision aswell as showing a Series 3 episode called Cabbies and Chips in 2003 as part of "ChuckleZone" however this Series 3 episode was only broadcast once on CBBC Channel. They begin having a hour marathon of ChuckleVision in July 2003 in a strand called "ChuckleZone" which ran for an hour at weekends which had 4 episodes of ChuckleVision back to back starting at Series 4 and working up to Series 21. They axed ChuckleZone in 2009 although ChuckleVision continued to be screened until 2013, when only the 2008 Christmas Special The Mystery of Little Under-Standing continued to be repeated annually during the festive season until Christmas Day 2013.
Ad blocker interference detected!
Wikia is a free-to-use site that makes money from advertising. We have a modified experience for viewers using ad blockers

Wikia is not accessible if you've made further modifications. Remove the custom ad blocker rule(s) and the page will load as expected.