Chairmen Chuckles



Series Number:

11

Episode Number:

07

Original Airdate:

February 3rd 1999

Written by:

Tony Husband & John Sayle

Guest Starring:

Ted Maynard

Previous Episode:

Next Episode:
The Chuckle Brothers go into the sedan chair business.
The Chuckle Brothers are hired by Dan the Van to ferry people about in a sedan chair as part of a living history museum. A bulky American wants them to take him to a Tudor banquet dressed as Henry VIII. Thanks to a little mechanical adjustment they get him there all right but he eats so much that on the return journey he has put on so much extra weight that he falls through the floor.
Watch the episode below!
Edit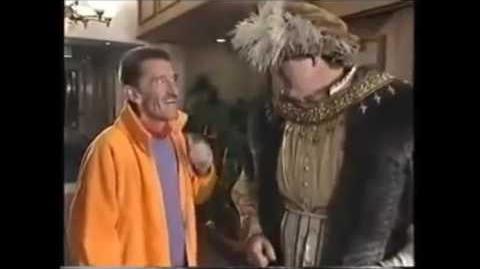 Ad blocker interference detected!
Wikia is a free-to-use site that makes money from advertising. We have a modified experience for viewers using ad blockers

Wikia is not accessible if you've made further modifications. Remove the custom ad blocker rule(s) and the page will load as expected.