Chester Merriment
was a character in ChuckleVision, he was portrayed by David Oakley.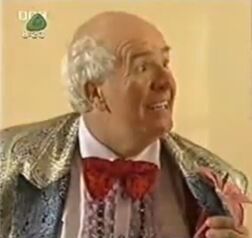 Apearances
Edit
His first appearance was in series 8's Monkey Buisness as Chester Merriment a practical joker, the Chucks mind his pet gorrila Tiddles who turns out to be him in a gorrila suit at the end of the episode.
His second and last appearance was in series 11's In The Soup as the factory owner, the Chucks come to his factory to open their tin and end up wiping the soup recipe off the computer's, the soup the Chucks make is even better but Paul hates it and tears up the recipe.
Ad blocker interference detected!
Wikia is a free-to-use site that makes money from advertising. We have a modified experience for viewers using ad blockers

Wikia is not accessible if you've made further modifications. Remove the custom ad blocker rule(s) and the page will load as expected.