Christmas Special

"So until we see you again, have a Happy Easter and a Merry New Spring."

Series Number:

02

Episode Number:

06

Original Airdate:

December 24th 1988

Written by:

John Sayle

Guest Starring:

Billy Butler

Previous Episode:

"Hobbies"

Next Episode:

"Farming"
Barry changing the month on the calender leads Paul to thinking it's Easter.
Barry is rummaging in a box of decorations and puts them up around the office and changes the calender to March. When Paul comes in trying to think of ideas for the show, he looks at the calendar for something seasonal and is confused by it being March and thinks he has been away a long time.
Paul introduces the show, but keeps being interrupted by Barry carrying a Christmas tree up the stairs, but is confused and tells him to get rid of it. Paul continues to talk to the audience and Barry checks the calendar confused and realises the problem.
They go out to the garden to check the blooming flowers, but Barry goes back to get changed into something warmer, but out in the garden nothing is blooming and Paul decides to come back soon in-case something happens.
Back in the studio, Paul is confused and gets out a book, but they can't get the filing cabinets to shut right. So Paul tells Barry to make some flowers and put them in the garden and he hands over to Armchair Theatre.
Out in the garden, Barry decorates the tree and plants the flowers in the garden, then Paul undresses the tree and he shows the audience the flowers, but they are all linked and keep pulling on each other. Back in the studio, Paul is talking to the audience, and Barry brings past a turkey and a Christmas Pudding and is shocked by the Christmas presentation Barry has made claiming it is Easter and checks his calender to make sure and realises he is wrong, and claims he used an old calendar. Then Paul claims to the audience that it is an outer Mongolian Easter celebration and signs off. Then he gets seated for the Christmas Dinner, including flying fish and tells Barry that he has a present for him, which looks like an Easter egg from the filing cabinet and he shuts it, but they all open up again and they both look at the camera.
Watch the episode below!
Edit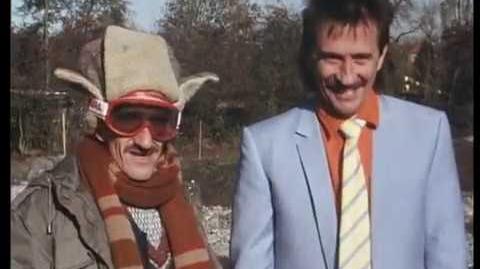 Ad blocker interference detected!
Wikia is a free-to-use site that makes money from advertising. We have a modified experience for viewers using ad blockers

Wikia is not accessible if you've made further modifications. Remove the custom ad blocker rule(s) and the page will load as expected.