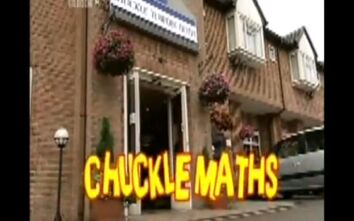 ChuckleMaths
was a Mini show broadcast on The Maths Channel for educational purposes.&nbsp
It involved Paul and Barry running a hotel and Paul usually having to tell Barry how to work this out using Maths.
About 10 episodes were made for The Maths Channel broadcast on BBC 2.
Many are on youtube at the moment.
They are usually repeated on BBC 2 but since summer have been repeated on BBC Learning Zone.
The theme tune is simple like ChuckleVision and To Me To You with someone singing "ChuckleMaths" and colourful letters bouncing around with the Chuckles in the background finding themselves and working their way to the hotel with them returning and going the opposite way.
Ad blocker interference detected!
Wikia is a free-to-use site that makes money from advertising. We have a modified experience for viewers using ad blockers

Wikia is not accessible if you've made further modifications. Remove the custom ad blocker rule(s) and the page will load as expected.