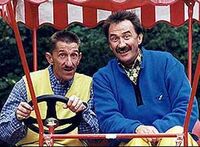 ChuckleVision

Starring:

Paul Elliott, Barry Elliott, Jimmy Patton (1989-2009), Brian Patton (1995-2008, Kate Copstick (1992-2000), David Williams (1991-2006)

Written by:

John Sayle, The Chuckle Brothers etc

Produced & Directed by:

Martin Hughes (1987-2006)

Music:

Dave Cooke

Location:

Various

Running Time:

20 Minutes (1987-1989, 1991-2001) 15 Minutes (1989-1990, 2002-2009)

Original Broadcast:

BBC One (Original Broadcasts: 1987-2009) Repeats: CBBC (2002-2009)

Original Run:

26 September 1987 - 18 December 2009

Broadcast Tenure:

22 years, 2 months and 22 days
ChuckleVision
is a popular British television series shown mainly on CBBC. New episodes are always first aired on BBC One, and occasionally episodes are shown on BBC Two. The first episode was shown on 26 September 1987 and the final series ended 18th December 2009. The show was then cancelled by the BBC due to declining ratings.
It follows the adventures of the Chuckle Brothers & the Patton Brothers, who find themselves in all sorts of situations that they must cope with. The twenty-first series of ChuckleVision started on 11 December 2009 on BBC One. A 3D movie is was also in production, until it was announced there was not enough funding to make it and it has now been delayed until a certain point.
Plot
Episodes of ChuckleVision are usually independent. The basic plot to each show is the brothers undertaking some sort of job, task or adventure. They are often employed by a character known as No Slacking, who is always played by the brothers' real-life brother, Jimmy Patton.
No Slacking is meant to be a different character in every episode he appears in; however, he is always known by this name owing to the catchphrase he always says to get the bumbling brothers to work properly. No Slacking usually appears several times in each series, although in recent years this number has been reduced to once or twice a series. In each episode his life is either ruined or otherwise inconvenienced by Paul and Barry. A large amount of the comedy is based on slapstick.
Episodes
Main Article: List of Episodes
See Also
Ad blocker interference detected!
Wikia is a free-to-use site that makes money from advertising. We have a modified experience for viewers using ad blockers

Wikia is not accessible if you've made further modifications. Remove the custom ad blocker rule(s) and the page will load as expected.