ChuckleVision30 is the name for the official celebration of ChuckleVision's 30th anniversary which will take place on 26 September 2017. Although the celebration will not be acknowledged by the BBC, because the show has been off-air since its cancellation in 2009, the celebrations will be carried off online, by sponsor channel ChuckleVisionmanII.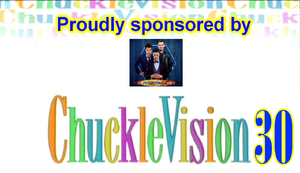 History
On 26th September 1987, ChuckleVision began on Children's BBC at Saturday breakfast time. From that moment history was made as viewers were entranced by the ongoing catastrophic adventures of accident prone brothers Paul and Barry Chuckle, an obsession which endured for 22 years, 21 series and 292 episodes, until the show was quietly cancelled by the BBC in 2009. Since then, there has been no acknowledgement to the show's ongoing longevity, even though the show was regularly repeated on the CBBC Channel until 2013. 
Character Tributes (January 2017)
No Slacking/Get Out of It Tribute
Title Sequence Recreations
ChuckleVision Series 2 (Series 3 Style Titles)
ChuckleVision - Patton Brothers Title Sequence
ChuckleVision - Series 1 and 2 Titles
ChuckleVision What If...? Series (February 2017)
This series of videos sees different title sequences from different series being mixed together e.g. Series 8 with Series 9 titles or Series 17 with Series 1-4 theme. Anything could happen!
ChuckleVision Compilations (February-August 2017)
ChuckleVision - The Ultimate Gags Compilation
ChuckleVision - The Definitive Title Sequence Compilation
ChuckleVision - The Ultimate Theme Tune Compilation
ChuckleVision - The Catchphrases Compilation
Theme Music
ChuckleVision: The 30th Anniversary Celebratory Video (TBC: September 2017)
Coming soon. The ultimate celebration of ChuckleVision...