The History of ChuckleVision is a long and interesting one, below i will write what i know about the history of the show.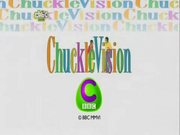 History of ChuckleVision with the BBC
Edit
In 1985, the BBC commissioned The ChuckleHounds, a show about two dogs that did stupid things, it ran for two series and a Christmas special.
In 1987 the Chuckles decided to come out of the dog costumes and present a show with themselves. The BBC commissioned ChuckleVision and it has been a hit since. In involved the brothers in a studio format doing stupid things on camera. It ran for thirteen episodes and ran for 20 minutes.
In 1988 the BBC commissioned a second series in the same format. It did well.
It was commissioned for a third series in 1989 and the format changed to out and about comedy. The titles also changed to the current ones and the length of episodes went from 20 to 15.
A fourth series was commissioned in 1991 with fifteen episodes and the length changed back to 20 minutes, the series also started to include other guests.
A fifth, sixth, seventh, eighth and ninth series were commissioned for 1992, 1994, 1995 and 1996.
During 1997 the Chuckles were called into the meeting with some people at the BBC and they said they loved ChuckleVision and they could stay until they wanted to retire. But that hasn't happened to this day.
A further tenth, eleventh, twelfth and thirteenth series were commissioned for 1997, 1998, 1999 and 2000.
But by the fourteenth series the BBC were changing their schedules and reduced the running time down to 15 minutes like with series 3.
Another fifteenth and sixteenth series were commissioned for 2003 and 2004 and the length stayed the same.
By series 17 the titles, credits and theme tune were shortened down from 30 seconds to 18 seconds.
Another Eighteenth and nineteenth series were commissioned for 2006 and 2007.
By the twentieth series the episode number was reduced from 15 episodes down to 6 most likely because the Chuckles didn't have the time to film 15 episodes. A christmas special was broadcast in December 2008.
This was repeated for the Twenty-First series in 2009 possibly because the BBC want to reduce the episodes. The BBC cancelled ChuckleVision in 2009 due to low ratings and lack of interest from the audience.