Dr Bonkers/Cake Shop Assistant
is a recurring character in ChuckleVision, he is portrayed by Alan Heap
Apearances
Edit
His first appearance was in series 8's ChuckleStein as mad Professor Dr Bonkers who tries to put Paul's brain in his monster.
He then appeared in Series 9's The Big Day as Jake The Cake's assistant.
He then appeared in Series 11's In The Soup as the Chucks restaurant customer who waits ages for his beans on toast and in the end has to make it himself.
His final appearance was in Series 12's The Good, The Bad, And The Chuckles as Old Jezza, the old coot of Rotheridge.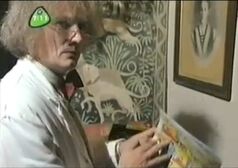 Ad blocker interference detected!
Wikia is a free-to-use site that makes money from advertising. We have a modified experience for viewers using ad blockers

Wikia is not accessible if you've made further modifications. Remove the custom ad blocker rule(s) and the page will load as expected.