Fowl Play



Series Number:

13

Episode Number:

04

Original Airdate:

January 10th 2001

Written by:

John Sayle

Guest Starring:

Brian Patton as Farmer Palmer
Mary Roscoe as Mrs. Nettle

Previous Episode:

Next Episode:
The Chuckle Brothers look after a prized rooster.
The brothers are poultry feed salesmen with Barry dressed as a giant chicken. Calling on injured farmer Mrs. Nettle they offer to help her collect her eggs and discover that neighbouring Farmer Palmer is trying to steal her prize rooster, Roger, though he accidentally traps Barry in his chicken costume before getting trapped himself and driven away by a very strange-looking bird.
Edited or Unedited?
Edit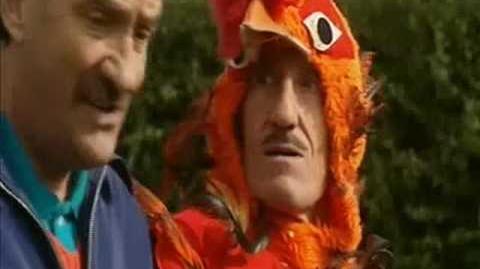 Ad blocker interference detected!
Wikia is a free-to-use site that makes money from advertising. We have a modified experience for viewers using ad blockers

Wikia is not accessible if you've made further modifications. Remove the custom ad blocker rule(s) and the page will load as expected.