Gold Rush



Series Number:

10

Episode Number:

02

Original Airdate:

December 24th 1997

Written by:

John Sayle

Guest Starring:

Kate Copstick & Maxwell Hutcheon

Previous Episode:

Next Episode:
The Chuckle Brothers get caught the middle of a country feud between two landowners.
Paul and Barry get jobs as rural postmen, knocking posts in the ground for farmer Mrs. Blenkinsop, to separate her land from crazed neighbour 'Mad' Mack Midas, who is obsessed with finding gold underground, and who threatens the brothers. A compromise is reached with Mrs. Blenkinsop striking gold and the Chuckle Brothers taking their reward, Daisy the cow.
Watch the episode below!
Edit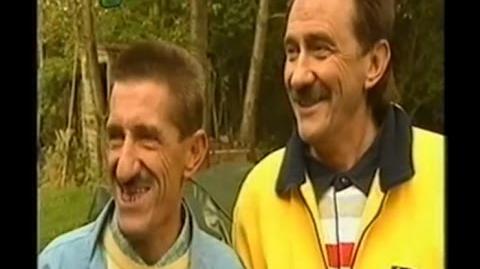 Ad blocker interference detected!
Wikia is a free-to-use site that makes money from advertising. We have a modified experience for viewers using ad blockers

Wikia is not accessible if you've made further modifications. Remove the custom ad blocker rule(s) and the page will load as expected.