goodlad79

Number of Videos

10

Number of Subs

46 (From Web Archives July 11 2011)

Date Created

June 9 2008
g
oodlad79
is a defunct YouTube channel that was responsible for uploading several rare ChuckleVision episodes.
He uploaded the following episodes:
3x07 - Trouble in Store
3x08 - Poster Pranks
3x13 - Cycle Crazy
All the episodes uploaded were from the original broadcasts in 1990 evidenced by the brief cutaways to presenters at the end of the closing credits and shown very briefly before the episode starts of Poster Pranks.
Channel Deletion
Edit
Goodlad79's channel was terminated when the BBC performed a copyright sweep of YouTube and deleted a number of ChuckleVision episodes they claimed as infringing their rights - which included this channel's uploads. The episodes have since been re-uploaded by subsequent users and can currently be viewed on ChuckleVision TV.
Channel Design
Edit
This is goodlad79's channel design from July 11 2011 before his termination.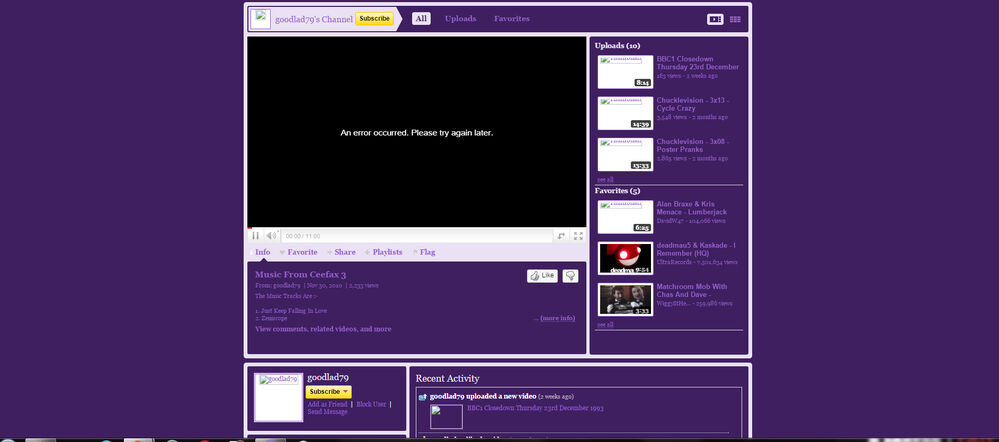 Here are some comments:
It is noted that goodlad took very great care of his ChuckleVision tapes since the quality is pretty good compared to some of the other series 3 episodes uploaded from other users.
Ad blocker interference detected!
Wikia is a free-to-use site that makes money from advertising. We have a modified experience for viewers using ad blockers

Wikia is not accessible if you've made further modifications. Remove the custom ad blocker rule(s) and the page will load as expected.