King of the Mill



Series Number:

12

Episode Number:

05

Original Airdate:

January 19th 2000

Written by:

John Sayle

Guest Starring:

Duncan Faber & Christine Furness

Previous Episode:

Next Episode:
The Chuckle Brothers lose a priceless watch while running a windmill.
he Chuckle Brothers are working in a bread shop for Mr. Bunn the baker, who inexplicably, has entrusted them with the care of a watch which is a family heirloom. When they run out of bread the Chuckles go to a wind-mill to make some more. Here Barry drops the watch into a flour bin and it gets baked into a loaf destined for the corner shop, where the brothers create havoc trying to retrieve it.
Edited or Unedited?
Edit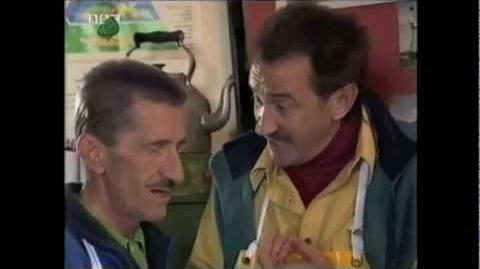 Ad blocker interference detected!
Wikia is a free-to-use site that makes money from advertising. We have a modified experience for viewers using ad blockers

Wikia is not accessible if you've made further modifications. Remove the custom ad blocker rule(s) and the page will load as expected.