Loch Aye

The Chuckle Brothers with Jimmy Patton as Captain McSlacking.

Series Number:

09

Episode Number:

08

Original Airdate:

February 5th 1997

Written by:

John Sayle

Guest Starring:

Jimmy Patton

Previous Episode:

Next Episode:
The Chuckle Brothers try to get to Scotland in time for the Loch Aye Games with the McChuckles.
The Chuckle Brothers head to the Loch Aye Highland Games in Scotland. Because the ferry was going to depart before they could get tickets Captain Lachlan McSlacking (Jimmy Patton) agreed to let them work their passage aboard the King Orry. After they got caught slacking the captain tied them up in rope coils. Upon their arrival in Douglas Paul and Barry were told that they were in the Isle of Man and they could not go back without tickets.

They called Dan for help then they sold their pole to buy the tickets. Before boarding Paul's ticket fell into the sea so they disguised Barry as an Auntie Mona, helping with the luggage, to get on board. However Barry raised his wig by mistake and with their cover blown the captain chased them around the ship eventually giving up. He said this was because he had enough and handed the ship to the brothers wanting settle on the Isle of Man in peace. Paul phoned Douglas McChuckle about their hiccough and discovered something.

Meanwhile the old captain looked down on the King Orry departing from above and met the Chuckle Brothers again. They explained that that it was not the Loch Aye Highland Games after all. It was the Loch Aye Island Games in the Isle of Man so they were right to be there in the first place.
Watch the episode below!
Edit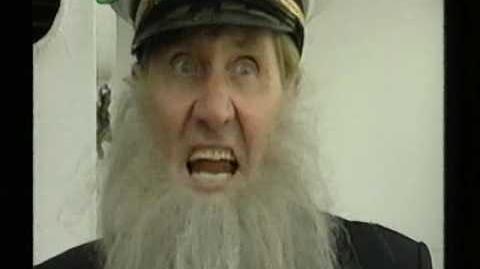 Ad blocker interference detected!
Wikia is a free-to-use site that makes money from advertising. We have a modified experience for viewers using ad blockers

Wikia is not accessible if you've made further modifications. Remove the custom ad blocker rule(s) and the page will load as expected.