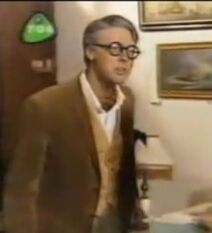 Mr Cheeseman
is a character on ChuckleVision, he is portrayed by Philip Hazelby who is also one of the writers
Apearances
Edit
His first appearance was as a postman in the episode Pizza The Action, he also co-wrote the episode with Ramsay Gilderdale.
His second and final appearance was in The Missing Piece as Mr. Cheeseman an antique shop owner, he finds a missing piece to a rare jigsaw tries to steal the other pieces from the Chucks because it's priceless when complete.
Ad blocker interference detected!
Wikia is a free-to-use site that makes money from advertising. We have a modified experience for viewers using ad blockers

Wikia is not accessible if you've made further modifications. Remove the custom ad blocker rule(s) and the page will load as expected.