Music



Series Number:

02

Episode Number:

04

Original Airdate:

December 10th 1988

Written by:

John Sayle

Guest Starring:

Billy Butler

Previous Episode:

Next Episode:

"Hobbies"
The Chuckle Brothers try their hand at playing music.
Paul is cleaning his piano and Barry brings in a candle to put on top and a bowl of fruit while Paul tunes his piano, and he credits himself as one of the best composers to follow the programme.
Paul introduces the programme and takes a look at all the instruments, but Barry can't get them up the stairs, but instead they check out the albern horn and it works right, hurting Barry's ears. When Paul mentions keyboards, Barry bring in his key board with lots of keys on it, not impressing Paul. Then he introduces the Birkenhead Bell Ringers, who consists of Paul starting off a tune and constantly has to correct Barry to the right bell, but ends up getting annoyed with him and ending the presentation. Then it is handed over to the monks as the bell ringers, with Paul coming in humming and ringing a bell consisting of a large noise, but Barry pulls a bell that issues a small tone, then Paul shows him how to do it, when Barry pulls his, it utters a doorbell tone. Then Paul demonstrates again, but when Barry does it, he ends but being pulled along with it and Paul walks off humming. Back in the studio, Paul hands over to Armchair Theatre.
Paul is waiting for the guest singer, who can't come so he makes Barry do it and issues him a costume. Barry puts it on and Paul takes him to his place. While there, Paul sorts out the lights and instructs the stagehands to move them up and down, but Barry follows his instructions and moves his voice high and low and Barry ends up holding his voice and running out of breath.
Over at the Philharmonic Hall, the McChuckles perform their own version of "Amazing Grace" on bagpipes and drum, although Paul McChuckle gets annoyed and ends up chasing Barry McChuckle when he plays the drum when he shouldn't after disturbing him.
Back in the studio, missing an orchestra, Paul portrays conductor to Barry on the piano for the 1812 overture (which is just after six) Paul introduces Barry to the audience as he pushes in his piano and then he grabs his stool, but before Paul can start he has to move his piano the right way around, but forgetting the stool falls on the floor and gets the stool before forgetting to lift the cover on the piano before being able to finally start and Barry plays the tune, but it doesn't seem right to Paul and he walks off, but Barry continues regardless.
Back in the studio, Barry comes in with a one man band playing the tune and Paul joins in and they show it off to the audience.
Watch the episode below!
Edit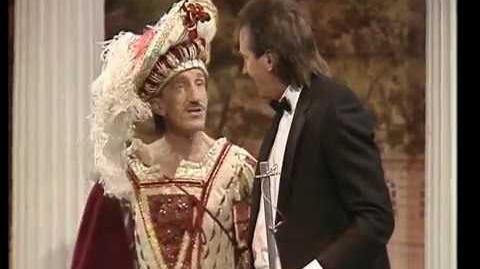 Ad blocker interference detected!
Wikia is a free-to-use site that makes money from advertising. We have a modified experience for viewers using ad blockers

Wikia is not accessible if you've made further modifications. Remove the custom ad blocker rule(s) and the page will load as expected.