Out for the Count



Series Number:

12

Episode Number:

09

Original Airdate:

February 16th 2000

Written by:

John Sayle

Guest Starring:

David Myatt & Hugo Myatt

Previous Episode:

Next Episode:
While staying at an eerie castle in Transylvania for a garlic hunting competition, the Chuckle Brothers think the host is a vampire.
Barry and Paul are in Transylvania where they hope to enter the garlic gathering competition and win a Golden Globe. Paul, daft as ever, ignores warnings not to stay at Castle Vlad, where the more sensible Barry is concerned that their host, the Count, may well be a vampire and hangs garlic round his neck. The Count may not be a vampire but somebody is. . .
Hugo Myatt was best known for his role as Dungeon Master Treguard in the CITV gameshow Knightmare, which ran from 1987 to 1994.
Edited or Unedited?
Edit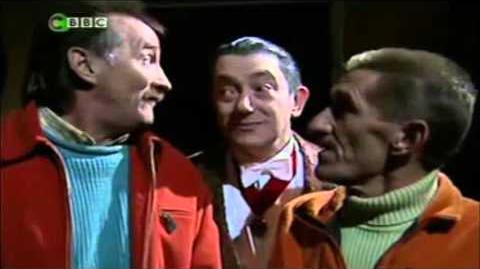 Ad blocker interference detected!
Wikia is a free-to-use site that makes money from advertising. We have a modified experience for viewers using ad blockers

Wikia is not accessible if you've made further modifications. Remove the custom ad blocker rule(s) and the page will load as expected.