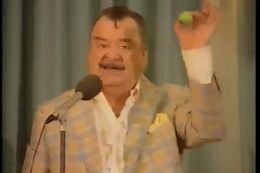 Perry Champagne
was a famous entertainer played by famous Hi De Hi actor Paul Shane. He hosted the Lucky Nine Bingo Hall Bingo Game and was a radio DJ on Rotheram Radio FM, but didn't count on meeting the Chuckle Brothers.
Biography
Edit
Mr Champagne's only appearance was in the Series 7 episode "My Lucky Number's 9."
He is first seen at the Lucky Nine Bingo Hall where Paul and Barry are taking part and begins the game with his special Bingo machine. He is sometimes interupted by Barry who tells him he's reading the numbers wrong. He calls out the numbers one by one and Barry wins each game which tires him out because he has won nine games in a row. He decides to have a lie down leaving Paul and Barry to pick their prize, not knowing that would he take his Bingo machine.
He is next seen at the radio station and by chance phones Barry to win a star prize by answering three questions:
Who was Yogi Bear's Best Friend?
How was Jennifer Saunders best known?
What was Kylie Minogue's Number One hit Single in 1988?
Barry answers all three and Mr Champagne offers him a prize between one and ten. Barry chooses number nine which is a "Whip-O-Matic Industrial Food Mixer." He tells him to meet him at Cloud 9 restaurant for his prize and his complementary meal.
Mr Champagne arrives and is astonised and angry to see that it's Paul and Barry again. He tells them that they were never meant to take his Bingo machine as a prize and that he needs it for a pro on game. When he is told that they've lost it, he's very upset so the Chuckle Brothers invite him to join them for the meal.
The Chef can't take their orders because his new cooker which was really the Bingo machine blew up the kitchen so Paul and Barry investigate. They replace the machine with the real cooker and hand the machine back to it's owner.
They all relax and have a friendly chat about Barry's luck until Paul looks at the paper and they all find out that it hasn't been Barry's lucky day at all because he's been looking at yesterday's paper.
Suddenly the kitchen explodes with the chef rushing out and suddenly Mr Champagne's Bingo machine starts to break down. He gets out of his seat angrilly and Paul and Barry run away leaving him behind in the restaurant.
Ad blocker interference detected!
Wikia is a free-to-use site that makes money from advertising. We have a modified experience for viewers using ad blockers

Wikia is not accessible if you've made further modifications. Remove the custom ad blocker rule(s) and the page will load as expected.