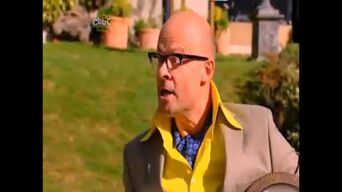 Simon Chortle
 is a character who appears in the episode
Mind Your Manors
, as the episode's main villain. He is one of the more famous minor characters in ChuckleVision. (Harry Hill)
Simon tries to find another way to get into Chuckle Manor. He can't get through the window, since it's full of cacti. He decides to climb the drainpipe, but wobbles, and then falls through one of the windows. The Chuckle Brothers use the chalice, which existed in the Stone Age, to travel through time and find the missing chalice which they need to save the manor, where they end up destroying a Stone Age monument.
Simon is still looking for the Chuckle Brothers, when he claps his hands, which causes a chandelier to fall on him. He goes into another room where he ends up getting crushed by a statue.
The Chuckles then travel to Tudor times, where they play a trick on Queen Elizabeth I, which results in them nearly getting executed until they utter the oath, but they drop the paper, and the executioner reads the paper which results in him being transported back.
Simon and the executioner are both looking for the brothers, but they fall into each other's traps. The brothers travel to the 1800's where they set fire to Beethoven's piano while he performs his new symphony.
They travel back with the chalice this time but Simon frees himself from the trap and tells the brothers to get out, but they tell him about the chalices and he breaks down in tears on the floor. The brothers knock their chalices together causing them to smash. Simon chucks them out of the manor, as the executioner is freed from his trap and chases after Simon as he is eating a banana. He hands the keys to the Chuckle Brothers and runs away. However, the executioner chases after the brothers soon afterwards.
He is played by Harry Hill, a famous comedian who is noted for hosting many TV shows, such as You've Been Framed and Harry Hill's TV Burp, and is even a character in the Dandy comic. He also quotes one of Harry's catchphrases "What are the chances of that happening?".
Ad blocker interference detected!
Wikia is a free-to-use site that makes money from advertising. We have a modified experience for viewers using ad blockers

Wikia is not accessible if you've made further modifications. Remove the custom ad blocker rule(s) and the page will load as expected.