Part 14: The Chuckle Brothers with the help of a shoe work out that Maddy is hiding at the Monastery.
The Men from the Monastery



Series Number

14

Episode Number

14

Written By

John Sayle

Guest Staring

Graeme Du Fresne, Kirsten Cooke,

Previous Episode

Next Episode
Maddy has left behind a shoe which Paul identifies as belonging to the monks of the Shoo-ing order, so the brothers arrive at the monastery and join the order. Maddy is ultimately revealed to be the leader of the monks but Paul challenges her to a dual of single combat, which she cannot refuse, and Barry tricks her into submission by forcing her to sneeze - the sign which always makes the monks throw people out of the window.
Watch the episode below!
Edit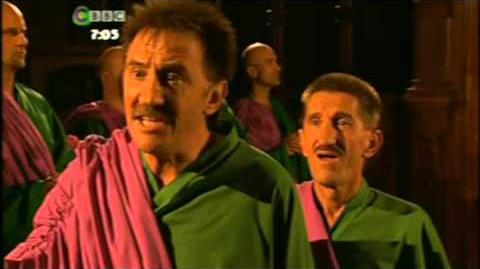 Ad blocker interference detected!
Wikia is a free-to-use site that makes money from advertising. We have a modified experience for viewers using ad blockers

Wikia is not accessible if you've made further modifications. Remove the custom ad blocker rule(s) and the page will load as expected.