Part 3: The Brothers find out where the Coutess is and must rescue her from Robespierre
The Purple Pimple - part 3 - Escape



Series Number

15

Episode Number

13

Written By

John Sayle

Guest Staring

Simon Harvey, Barry Killerby, Tilly Edwards,

Previous Episode

Next Episode
Posing as pork pie salesmen the Chuckle Brothers enter Robespierre's house but are caught and imprisoned along with the Countess before all three are released by Sir Percy. They escape to woods where Robespierre and his soldiers catch up with them. However, after a sword battle during which Paul accidentally pins him to a tree, Robespierre admits defeat and considers running a restaurant instead. Sir Percy, the Countess and Barry and Paul all return to England.
This episode is considered rare since it wasn't on YouTube till recently because the BBC took it down for copyright along with Kidnap.
Watch the episode below!
Edit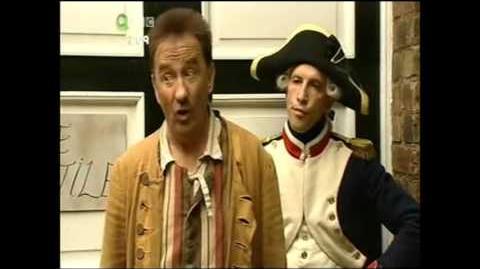 Ad blocker interference detected!
Wikia is a free-to-use site that makes money from advertising. We have a modified experience for viewers using ad blockers

Wikia is not accessible if you've made further modifications. Remove the custom ad blocker rule(s) and the page will load as expected.