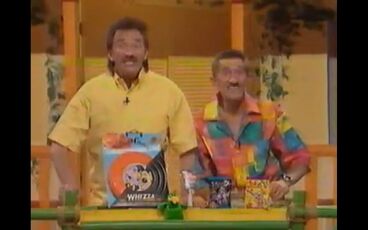 To Me To You was a TV Gameshow which starred Paul and Barry, children and celebritiy guests.
The show ran for 3 series between 1996 and 1998 with two Christmas specials.
The prizes were usually always low budget and not very good.
Some of the games were Chuckle Swamp and Chuckle Chuck in which they had to chuck pies at the chuckles and if they failed would have pies in their faces.
The theme tune was simple like ChuckleVision with kids singing "To Me To You"
To Me...To You

Presented by

The Chuckle Brothers

Duration

25 minutes

No. of episodes

39 (inc. 2 Christmas specials)

Original network

BBC1/BBC2 (CBBC)

Picture format

4:3

Original release

21 June 1996 - 25 December 1998
Episode List
Edit
Thanks to BBC Genome
Series 1 (1996)
Edit
| # | Title/Celebrity guest | Original airdate |
| --- | --- | --- |
| 1 | Chris Jarvis | 21 June 1996 |
| 2 | Bodger and Badger | 28 June 1996 |
| 3 | Bobby Davro | 5 July 1996 |
| 4 | Unknown | 12 July 1996 |
| 5 | Stuart Miles | 19 July 1996 |
| 6 | Michaela Strachan | 26 July 1996 |
| 7 | Dave Benson Phillips | 2 August 1996 |
| 8 | Kyran Bracken | 9 August 1996 |
| 9 | John Barrowman | 16th August 1996 |
| 10 | Falcon (from Gladiators) | 23rd August 1996 |
| 11 | Dr Dave (from Newsround) | 30 August 1996 |
| 12 | The Demon Headmaster | 6 September 1996 |
| 13 | Josie D'Arby | 13 September 1996 |
Series 2 (1997)
Edit
| # | Celebrity Guest | Original airdate |
| --- | --- | --- |
| 14 | Otis the Aardvark | 27 June 1997 |
| 15 | Dominic Wood | 4 July 1997 |
| 16 | Sarah Vandenburg | 11 July 1997 |
| 17 | Nick Maloney | 18 July 1997 |
| 18 | Kirsten O'Brien | 25 July 1997 |
| 19 | Peter Simon | 1st August 1997 |
| 20 | Vogue (Gladiator) | 7 August 1997 |
| 21 | Ellie Bevan ('The Wild House' presenter) | 15 August 1997 |
| 22 | Michael Fish | 22 August 1997 |
| 23 | Adam Ray (Grange Hill) | 29 August 1997 |
| 24 | Wendy Turner | 5 September 1997 |
| 25 | Mark Speight | 12 September 1997 |
| 26 | Katy Hill | 19 September 1997 |
Christmas Special (1997)
Edit
| # | Celebrity Guest(s) | Original airdate |
| --- | --- | --- |
| 27 | Emma Lee, Peter Simon, Richard Bacon and Kirsten O'Brien | 23 December 1997 |
Series 3 (1998)
Edit
| # | Celebrity Guest | Original airdate |
| --- | --- | --- |
| 28 | Michaela Strachan | 8 April 1998 |
| 29 | Steps | 15 April 1998 |
| 30 | Mr Blobby | 22 April 1998 |
| 31 | Tim Downie ('Out of Tune') | 29 April 1998 |
| 32 | Dave Benson Phillips | 6 May 1998 |
| 33 | Kelly Holmes | 13 May 1998 |
| 34 | Richard McCourt | 20 May 1998 |
| 35 | Jimmy Patton ('No Slacking') | 27 May 1998 |
| 36 | Sally Geoghegan ('Miss Carver' in 'Grange Hill') | 3 June 1998 |
| 37 | Konnie Huq | 1 July 1998 |
| 38 | Paul Zerdin | 8 July 1998 |
Christmas Special (1998)
Edit
| # | Celebrity Guest(s) | Original airdate |
| --- | --- | --- |
| 39 | Shauna Lowry ('Animal Hospital' presenter) | 25 December 1998 |