Watch the Birdie



Series Number:

12

Episode Number:

12

Original Airdate:

March 8th 2000

Written by:

Gail Renard

Guest Starring:

Andrew Bradley

Previous Episode:

Next Episode:
The Chuckle Brothers discover a rare Macaw when they attempt to put up a radio mast.
Whilst putting up an aerial mast for Dan the Van, Paul and Barry meet Mr. Macaw, a bird-watcher out to secure the very rare egg of the fast disappearing macaw-hawk, which is nesting at the top of the aerial. Barry is determined to stop him from stealing the egg and goes to very great lengths to give the impression that the macaw-hawk is not rare after all.
Edited or Unedited?
Edit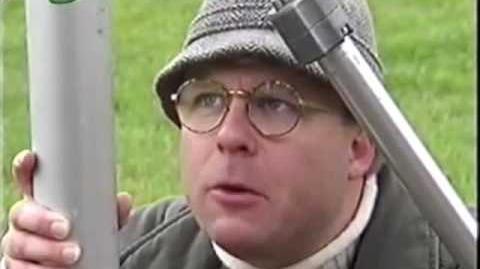 Ad blocker interference detected!
Wikia is a free-to-use site that makes money from advertising. We have a modified experience for viewers using ad blockers

Wikia is not accessible if you've made further modifications. Remove the custom ad blocker rule(s) and the page will load as expected.