Wrong Number



Series Number:

13

Episode Number:

03

Original Airdate:

January 3rd 2001

Written by:

James Carey

Guest Starring:

Richard Webb

Previous Episode:

Next Episode:
Not to be confused with the Series 5 episode "Wrong Number"
The Chuckle Brothers try to fix a dodgy telephone line much to the annoyance of a telephone engineer.
The Chuckle Brothers are going into tele-marketing, and have got an office. They make efforts to put in their own telephone line, oblivious to the efforts of an actual telephone engineer, whom they accidentally pour water over, knock off his ladder, squirt with oil and blow up. He is not best pleased and confiscates the telephone, meaning the brothers have to use a phone box, but they even manage to sabotage that, putting all the local phone lines out of order.
Final episode written by James Carey.
Edited or Unedited?
Edit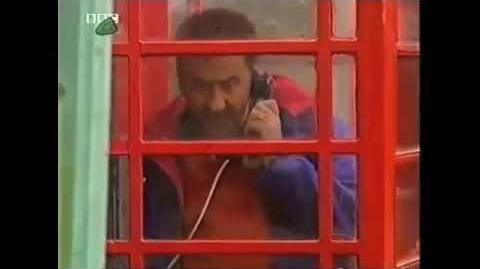 Ad blocker interference detected!
Wikia is a free-to-use site that makes money from advertising. We have a modified experience for viewers using ad blockers

Wikia is not accessible if you've made further modifications. Remove the custom ad blocker rule(s) and the page will load as expected.